| | |
| --- | --- |
| Price: | $15.00 |
| Availability: | in stock |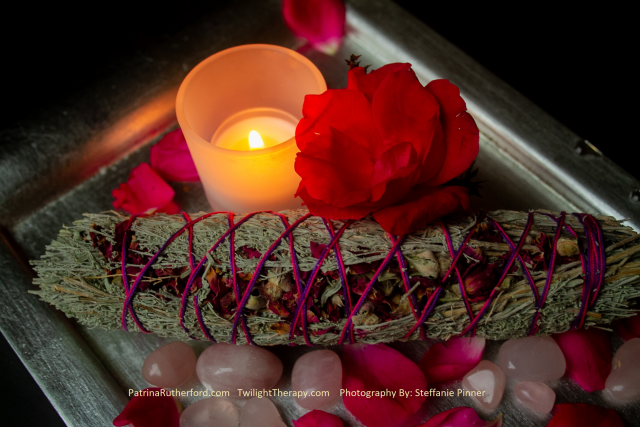 Desert Sage With Rose Petals
This magical mixture of smudge is hand tied combining two powerful plants that gently create balance and harmony. Desert Sage helps purify and prepare you for intuitive and spiritual work while bringing peace to your environment.
Rose, the queen of the plant kingdom, brings dignity and grace to you while creating room for the energy of love and self acceptance to fill your cleansed space.
When you've completed your smudging place a rose quartz, the stone of universal love, in your cleared space to seal the positive flow of higher vibrations.
SAGE GENERAL USE AND PRECAUTIONS
Be sure to store your smudging herbs, spices and plant matter in a dry place protected from direct sunlight.
When ready to use be respectful and use caution when burning your bundles. Light the tip of the bundle from a candle or lighter. I prefer a candle (simply because I usually end up burning myself with a lighter, oops). Lightly blow the flames out, allowing the bundle to smolder.
Burn on a fireproof surface and watch closely to prevent falling embers as you gently fan the smoke. Use in a partially ventilated area. Take into consideration any allergies to plant matter you may have and avoid their use.
This offering is for 1 Desert Sage/Rose Petal bundle. Each smudge bundle is approximately 8".
~ Your order is shipped with our sincerest gratitude. It will contain a tiny feather for you to use during our feather release meditations at our Full Moon Celebrations online. ~
You're invited to take this special
designed for you with the basics of smudging your home.
Follow Us
Disclaimer
* Consultant your physician before incorporating the use of any integrative, vintage, complementary therapy into your lifestyle. This newsletter is an informational guide and collection of uses from clients, friends, family and books. It is not a substitute for professional medical care or treatment.
Copyright Notice: All articles and photographs and logos on these pages are the sole copyright of Patrina Rutherford-Vickers © ,2020-2023 No permission, either implicit or explicit is given to reproduce or use these articles or photographs or logos in any format or media. All Rights are Reserved