Crystals & Spa Stones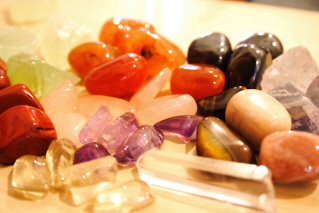 Crystals have been used as tools for the mind for centuries. Different crystals or gemstones are believed to have their own unique therapeutic value. A crystal, which is also a conductor of energy, was used to balance ones thought-forms and bring the chakras into balance. Use a crystal and an essential oil of the same properties to engage the mind with intention and focus.
Spas and Salons use cool and warm crystals and stones in facials and massage treatments. They are strategically placed on acu-pressure and marma points on the face and body to redirect the flow of chi.
---
Just click on each crystal for a short description of each . We have listed a few of the historical, folklore, myth and vintage uses of the crystals.
** Any information given on this site is not intended to be taken as a replacement for medical advice. Any person with a condition requiring medical attention should consult a qualified physician or practitioner.
---