| | |
| --- | --- |
| Orig. Price: | $4.00 |
| Sale Price: | $2.50 |
| Availability: | in stock |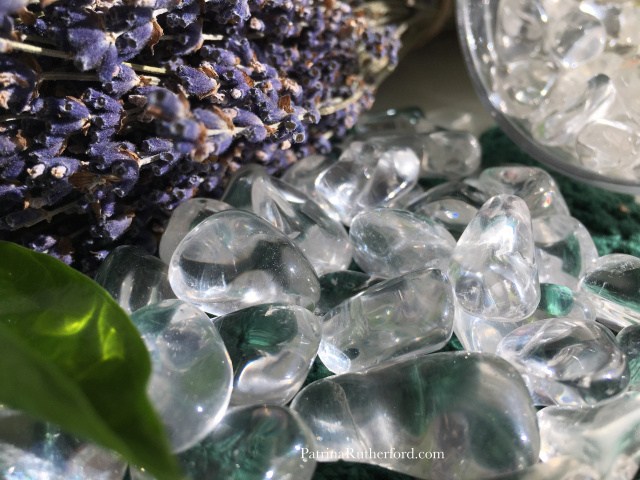 Description
Peering into a water droplet on a leaf is absolutely mesmerizing for me. The magic of a tiny world encapsulated and mirrored back to you is hypnotic. These clear water quartz mimic those captivating droplets of water. They can help take you to a deeper place of meditation. Their super power is to amplify your intentions.

Holding the illusion of water they help you magnify the flow of your intentions. The properties of other stones, oils or herbs in its presence are also reinforced and magnified This trait makes it an excellent stone for creating crystal grids.
Spa Salon Uses
This is a particularly effective stone for relaxation during meditations. It is filled with positive energy that opens and aligns all chakras. Known as a master healer the clear quartz has been used to alleviate physical pain.

According to ancient knowledge, this beauty awaits your openness and readiness to receive. Clear Quartz will align itself with your emotional requests. So take care to make sure your emotions match your intentions; as the clear quartz amplifies your emotional content not your words.

Boost the effects of your customized skin and body care with Clear Quartz. Make a simple bath luxurious by adding it along with your essential oils to heighten your relaxation.

THIS LISTING IS FOR
1 (one) .75"-1.0" Super clear Water Quartz
SAGE & FEATHER
Your order is shipped with our sincerest gratitude. It will contain a tiny feather and sage leaf to clear the energy of your stone when received. Join us to use your tiny feather in our release meditations during our Full Moon Celebrations online.
Best Wishes,

~ Patrina ~
Hey There Spa Beauties!
Would you like to have a more peaceful perspective in your lifestyle? Learn how to use spiritual spa enhancements to bring you to a place of overall wellness and balance.
"Spacifically Inspired Members" began as a monthly Full Moon Meditation for my fabulous salon clients.
It was a time to gather together in order to celebrate each month by learning how to integrate the use of crystals, essential oils and meditative techniques into our lives.
This is now a virtual event!
Follow Us
Disclaimer
* Consultant your physician before incorporating the use of any integrative, vintage, complementary therapy into your lifestyle. This newsletter is an informational guide and collection of uses from clients, friends, family and books. It is not a substitute for professional medical care or treatment.
Copyright Notice: All articles and photographs and logos on these pages are the sole copyright of Patrina Rutherford-Vickers © ,2020-2023 No permission, either implicit or explicit is given to reproduce or use these articles or photographs or logos in any format or media. All Rights are Reserved